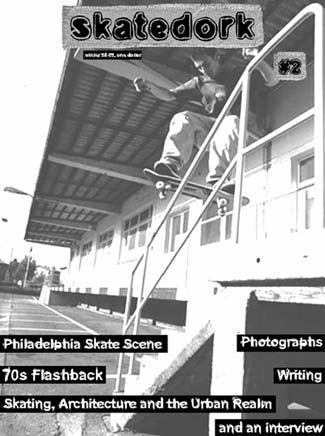 Issue #2 is available by sending $1 to (or buying online):
Stephen Voss
221 Spring Ridge Dr.
Berkeley Heights, NJ 07922
Skatedork Issue #2 Winter 1998-99 (buy online)
Philadelphia Skate Scene
Skateboarding, Architecture and the Urban Realm
Interview with Michael Brooke, author of The Concrete Wave
1970s Skateboard Flashback
Plus columns, pictures, fiction and more.
Reviews of Skatedork #2
Zine World #10 (I think). Passionate and thoughtful publication about skateboarding. Good design on newsprint, interesting article by an academic on how skateboarders use public space "Skaters produce an overtly political space, a pleasure ground carved out of the city as a continuous reaffirmation of the notion that beneath the pavement, lies the beach". Also stuff on the history of skateboarding, and some gripes on having no place to skate. Good read.
Heckler #35. Skatedork: is a great zine about skateboarding. Well actually it's a zine about having fun skateboarding, which makes it a little different from most other publications covering skating. It has columns and a lot of writing which is also a bit different and, I think, much needed. There's also some photos but the newsprint isn't the best, so if all you want to do is look at pictures, stick to TW. This zine is for a fresh perspective.